13 Oct

Stein SELLS three 'SPACE SHOPS' IN METRO ATLANTA, MORE IN THE WORKS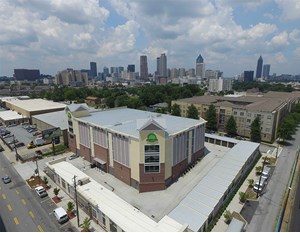 Company's self-storage portfolio tops one million square feet.
ATLANTA – Stein Investment Group (Stein Investment) announces the sale of three of its Space Shop Self Storage properties in metro Atlanta.  Totaling more than 300,000 square feet, the Cumming, Marietta and Atlanta facilities sold for an undisclosed amount to Life Storage, LP on behalf of one of its joint venture partners.  Life Storage is a leading national owner and operator of self-storage properties in the United States.  The transaction was finalized August 17; no additional terms are available.
"Located in areas of high population growth with above-average income levels, these three self-storage assets are extremely well-positioned for continued success," states Jeffrey L. Stein, founder and principal, Stein Investment Group.  "We fully capitalized on a supply and demand imbalance that existed – and still exists – within very specific submarkets."
Stein Investment acquired the 90,000-square foot Cumming storage property in 2015.  Later that year, Stein added 13,000 square feet of storage space and then re-branded the property as Space Shop Cumming as part of a $2 million redevelopment.  In addition, the façade was updated, a modern leasing office was added and operational systems were upgraded.  Today, the 103,700-square foot facility offers 800 units and is currently 90% leased.  The property was previously known as Quality Self Storage since it opened in the late 1980s.
In 2014, Stein Investment developed Space Shop East Cobb at 3148 Johnson Ferry Road, a primary commercial corridor in Marietta, Ga.  This was the first Class A, climate-controlled self-storage facility built in metro-Atlanta's notorious East Cobb in more than 20 years.  Formerly home to a gas station, the site required remediation and removal of underground storage tanks.  The firm worked closely with the surrounding neighborhood associations in this influential neighborhood to align the facility with architectural standards as well as preferred amenities, such as climate-controlled wine storage.  The 93,000-square foot facility was completed in 2014.  Currently Space Shop East Cobb is 88% leased.
Also developed by Stein Investment as an urban, infill opportunity, Space Shop Old Fourth Ward is located at 486 Decatur Street in the heart of Atlanta's popular Old Fourth Ward district.  Formerly home to a dilapidated commercial building, the site required remediation of environmental contamination as part of development and construction was completed in 2014.  The 110,000-square foot facility features five levels of storage, access control and covered loading.  "Despite the property being zoned for storage when we acquired it, we worked closely with Atlanta BeltLine to ensure our plans aligned with the vision of the beltline district and provided an amenity to the community," explains Stein.  Currently, Space Shop Old Fourth Ward is 85% leased.
Since 2012, Stein Investment has developed, managed and sold more than 1.75 million square feet — or 12,000 units — of self-storage space.  Today, approximately 1.2 million square feet of self-storage remains in the firm's portfolio with nearly 600,000 square feet more in the development pipeline in Georgia and North Carolina:
Space Shop Buckhead (Lenox Road; 94,300 sq.ft.; 677 units)
Space Shop Chamblee (Brookhaven; 81,900 sq.ft.; 635 units)
Space Shop Kennesaw (Cobb Parkway; 105,000 sq.ft.; 740 units)
Space Shop Hiram (Hiram-Acworth Highway; 70,000 sq.ft; 460 units)
Space Shop Raleigh (Gresham Lake Road in Raleigh, NC; 97,800 sq.ft; 753 units)
Space Shop Cary (Maynard Crossing Court; Cary, NC; 105,800 sq.ft.; 737 units)
"The success of our Space Shop product in premier locations has solidified our long-term real estate investment strategy and we look forward to continued growth in this sector," concludes Stein.
About Stein Investment Group
Headquartered in Atlanta, Stein Investment Group is a third-generation, private real estate investment firm recognized for its integrity and investment acumen. With over 150 years of combined real estate experience, the firm seeks unique real estate acquisition opportunities throughout the Southeast.  The firm's 2 million-square foot portfolio includes more than 300,000 square feet of retail, 350,000 square feet of office and over 1.2 million square feet of self-storage facilities. The team is recognized for its ability to respond quickly and capitalize on investment opportunities.  For more information, go to steininvest.com.