28 Jun

$40 million Upper Westside project lands new partners, first tenants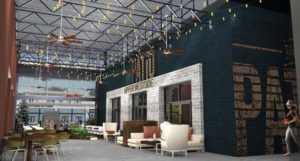 Veteran retail investors have joined a $40 million mixed-use project that aims to become the village center for Atlanta's emerging Upper Westside.
Frank Buonanotte, founder and chairman emeritus of The Shopping Center Group, and Jeff Stein of Stein Investment Group have partnered with Eden Rock Real Estate Partners on the Westside Village development.
The 100,000-square-foot project is now under construction on a nearly 10-acre site along Marietta Boulevard, across from a new Publix store and Henri's Bakery & Cafe at Moores Mill Road.
What sets the development apart from most shopping centers is its almost 17,000 square feet of outdoor patios and communal space, including sunken seating areas, rooftop terraces and courtyards.
"I became a believer instantaneously when I saw Eden Rock's vision and toured this submarket," said Buonanotte, who along with Stein, was behind Westside Ironworks, an adaptive reuse project on Howell Mill Road that includes Barcelona Wine Bar and O-Ku Sushi. "We want to be more than a shopping center. We want people to come together and congregate with their neighbors. I think it's crucial."
That's because in an age where e-commerce is forcing retail to evolve, shopping centers that offer an elevated experience for consumers are quickly becoming social destinations. Consider Ponce City Market or Alpharetta's Avalon.
Brandon Ashkouti of Eden Rock Real Estate Partners said in designing Westside Village he was inspired by projects near New York City's High Line, the conversion of warehouses in West Midtown and mid-century modern home design that includes "sunken living rooms."
"It creates an environment where you want to stay," Ashkouti said. "We are checking so many boxes for local consumers."
"This is a retail-starved market with incredible disposable income" Ashkouti said. "But right now they have to drive 20 minutes for dining options and daily-needs retail."
Westside Village has already landed tenants including Primrose Schools, luxury fitness club The Refinery and Westside Pizza, a 15-year-old neighborhood joint that's relocating to the project.
When complete, the project will also offer several restaurants, a coffee shop, gourmet market with prepared foods, ice cream shop, yoga studio, dental and medical services, along with daily needs such as a dry cleaner, salon and hardware store.
It's set to open in first-quarter 2019.
Atlanta Business Chronicle first reported plans for Westside Village in September 2016.
The project is re-purposing a 50,000-square-foot warehouse and adding three commercial buildings. It will also include about 20 townhomes.